African Rubies
About African Rubies
African rubies are usually purplish to dark red in color and come in a variety of sizes and quality ranging from opaque to translucent to transparent. Usually African rubies are very much included and are cut en cabochon. Transparent rubies are usually cut and polished into faceted stones. The best color in African rubies is the fine dark.

Treatments
Treatments on African rubies depend on their origin. Rubies from Madagascar are generally heat treated to increase transparency and color. Some rubies from Tanzania and Kenya are also heated for the same purpose. However, in general African rubies are not treated since heat treatments is not suitable on them. While purchasing ruby, one should always be aware of the treatments performed, if any, and should ask for a reputed gemological laboratory certificate to ensure that treatments are disclosed.

Various Hues and Colors of African rubies
The most common color in African rubies is purple or purplish-red. Deep red rubies are found in Tanzania. Dark pink to Dark Pinkish Red rubies are found Kenyan mines. Rubies from Mbinga in Tanzania usually have a brown overcasted color while ones from the Longido mines have a blood red to dark red color. Mozambique rubies have brownish-red color.
There are four major ruby producing areas in Tanzania:

Longido: A German officer stationed on the Kenyan border at Mt. Longido was the first to find rubies in this area. Longido rubies are quite unique in their appearance and are associated with the mineral zoisite. Most of the material is very heavily included and is unfit for cutting and polishing into faceted stones. However, due to their exceptionally good color, most of them are cut and polished into carvings, sculptures and cabochons.

Umba: Rubies and Fancy Sapphires found in Umba valley in North Eastern Tanzania are among the most famous gemstones in the world. The Rubies and Sapphires of Umba occur in various colors and shades including red, orange, blues, greens, and mixtures of these colors which defy all conventional descriptions. Parti-color (Bi-Color) Sapphires and extremely rare color-change sapphires also come from this area.

Lossongoi: Some of the most beautiful rubies are found in the southern slopes of
Lossongoi mountains, near the village of Lossongoi Springs (south of Arusha).These rubies are both of facetable and cabochon grade material.

Morogoro: Ruby deposits were discovered in the 1970s in the western Uluguru mountains near Morogoro. These mines are spread over a large area including Motombo, Kitonga, Epanko, Ruaha, Lukande, Mayote, and Kitwaro. These mines yield mostly cabochon grade and star ruby material.
In the year 1973, American geologists Tim Miller and John Saul discovered ruby in Kenya's Tsavo West National Park, in the area of Mangari. Although material clean enough to facet was rare, the color of the material was excellent. In the scandal reaching to the highest levels, Kenyan government illegally took control of the mines. The mines were eventually restored to their rightful owner, and today the so called John Saul mine continues to produce good cabochon-grade material, along with some faceted stones.
Rubies from Mozambique (Niassa)
New Ruby deposits have been discovered in the Niassa district of Mozambique in 2009 (nearing the Tanzania border). These are high-quality rubies as good as, if not better than, Burmese (Mogok) rubies. More...

Rubies from Nigeria
Nigerian Rubies are extremely dark purple, so dark-colored that they almost appear black in daylight. Heat treatments have been attempted on Nigerian Rubies to reduce the color, with little success. The mines are located in the Kaduna District.

Rubies from Malawi
Rubies have been found in Chimwadzulu hill in southern Malawi (formerly Nyasaland). Malawi rubies have a rather pale color.
Large quantities of rubies and sapphires have been recently found in Madagascar. Although the rubies are pinkish in color and resemble pink sapphires, the transparency is excellent and they are suitable for faceted stones. Ilakaka is one of the major areas yielding corundum. Red crystals are also found in Gogogogo, east of Transvaal.
A Few African Rubies from our inventory...
---

133.89-Carat Grand Laughing Budda Sculpture (Carved from Ruby)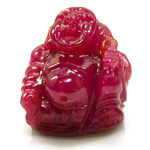 ---

1.18-Carat Superb Neon Red Taper-Cut Ruby (Unheated)


---

2.20-Carat High-Clarity Unheated Ruby from Liberia (AIGS)


---

83.71-Carat Laughing Budda (Carved from Ruby)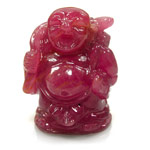 ---

1.18-Carat Sparkling Pear-Shaped Ruby (Unheated)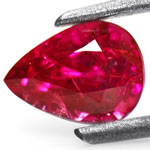 ---

1.47-Carat Exclusive Pinkish Red Ruby (Natural & Unheated)


---

1.65-Carat VVS-Clarity Cushion-Cut Ruby from Madagascar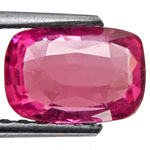 ---

7.69-Carat Superb Blood Red Star Ruby with Sharp Star


---

6.19-Carat Ruby Cabochon Oval (Natural & Untreated)


---

4.24-Carat Cabochon-Cut Ruby from John Saul Mines (AIGS)


---
More African Rubies..
Star Ruby from Kenya (John Saul Mines)