Cabochon Cut

Definition of Cabochon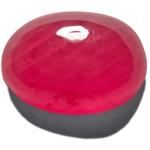 "Cabochon Cutting" is amongst the oldest forms of cutting. When a gemstone is given a curved shape, like a dome, and polished, it is known as Cabochon Cut.


Cabochon Cutting Styles

There are four styles of cabochon cut:
A simple cabochon with a dome shape on one side and a flat base
Another cabochon cut is one in which both the sides are convex or dome shaped but the upper dome is higher than the lower one
A more recent cutting style in cabochon is the hollow cabochon, in this type of cabochon the upper surface is dome-shaped like a simple cabochon but the lower surface is concave inside. This type of cut is used to improve the transparency of a translucent stone. It also offers an advantage in jewelry use since it is lighter than the simple cabochon cut and weighs lesser carats.
The last type of cut is a simple cabochon having a very low dome. It appears almost flat, and it also is enhances the transparency of the stone.
Shapes

Cabochon cuts have been produced in a number of shapes ranging from Oval to Round to Pear to many other fancy shapes like Heart, Triangle, Marquese, etc. Amongst all, the Oval shape is the most common type of cut.
Oval

Heart
Pear

---

Round
Marquise
Triangular (Trilliant)



Advantages of Cabochon Cutting

When cut en cabochon as the French like to term it, various optical phenomena of the stone can be seen such as asterism, chatoyance, opalescence, schiller effect, etc.
Deep colored stones which are transparent are also sometimes cut in hollow cabochon cut to decrease the color masking its transparency.


Cabochon Cutting & Polishing Technique

The rough gemstone is first pre-shaped by hand on a place coated with diamond powder, rotating on lap by a motor (generally 800 R.P.M. or more). The pre-shaping is done manually by hand keeping in mind the inclusions, cracks, and cleavage. After pre-shaping, the dome shape is stuck on a stick for fine shaping and smoothing the surface. The smoothing of the surface is very critical for the polish to be good. After the fine shaping, the polishing is done by diamond powder mixed with oil on a polishing lap. The polishing in most gemstones is done on Sandalwood.
Some Cabochon-cut gemstones from our inventory
---

3.57-Carat Rare 'Blood Red' Vietnamese Ruby (Natural & Unheated)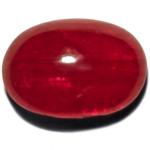 ---
5.40-Carat Hot Pink Ruby from Africa (Natural & Unheated)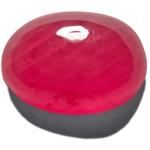 ---
37.94-Carat Wonderful Aqua Blue Burmese Sapphire (Unheated)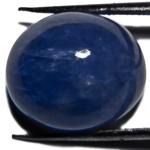 ---
4.77-Carat Pleasing Grass Green Cabochon-Cut Colombian Emerald
---
47.80-Carat Layout of Pinkish Red Ruby Cabochons (Unheated):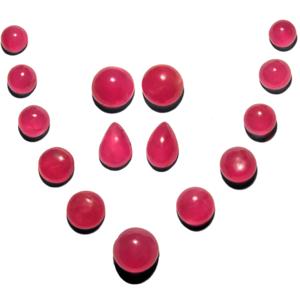 ---