Trapiche Sapphires
About Trapiche Sapphires
While trapiche patterns are common in emeralds, they are less common in corundum, and are typically restricted to ruby. Trapiche Sapphires are considerably rarer. Trapiche sapphires, like trapiche rubies and emeralds, consist of six sapphire sections that are delineated and separated by "arms" resulting in a fixed six-rayed "star".
Colors of Trapiche Sapphire
Though trapiche patterns are found in almost all varieties of sapphire, yellow trapiche sapphires are very few and far in between. Blue and black trapiche sapphires are comparatively easier to get, though still much rarer than trapiche rubies.
Trapiche Sapphires are different from Star Sapphires
In Star Sapphires, the six-ray star glides along the surface of the stone when the star sapphire is moved. Unlike Star Sapphires, in Trapiche Sapphires, the six-ray "star" is fixed and does not move.
Sources of Trapiche Sapphires



Most trapiche sapphires, like trapiche rubies, are known to come from the Mong Hsu region of Burma and from West Africa.

Trapiche Sapphires with Asterism



Some trapiche sapphires also display asterism (the star effect as seen in star star sapphires). These formations are extremely rare.
Some Trapiche Sapphires from our stock:
---
---
---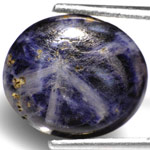 ---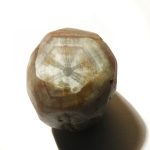 ---